With the purpose of recognize the actions that CETYS Alumni perform in their community, the event #ImpactoCETYSAlumni was carried out, from the 5th to the 21st of September, where CETYS Alumni were invited to take action in the benefit of a better world and communities.
As part of the 58th Anniversary of CETYS University, on September 21 simultaneous activities were carried out in the cities of Ensenada, Mexicali and Tijuana, where CETYS Alumni had the opportunity to contribute in the well-being of their cities.
In Ensenada, CETYS Alumni joined "Ocean Conservancy", a global project that identifies the types of waste in the beaches and streams, with the purpose of eliminating the sources of this problem and reduce pollution. This activity took place in San Miguel Beach in Ensenada.
"I loved being part of this experience. I know there are no small efforts, everything adds up, and many wills are required to make a change. Our planet needs it. I am proud that my alma mater is part of this project, and I hope this will continue and many more people will join" said Deneb Campos Martinez, Industrial Engineering graduate.
In the city of Tijuana, the Alumni visited the Orphanage "Colina de Luz", a nonprofit organization where different activities were carried out, focused on teaching the children about emotional intelligence. Also, a donation of goods was delivered to the Orphanage.
Meanwhile, in Mexicali the Alumni Community visited the Orphanage "A Way Out", a nonprofit organization where more than 40 teenagers live. As part of the schedule, the Dean of the School of Psychology at CETYS University, professor Ivon Guerrero gave a workshop on life planning. After that, a donation of goods was delivered, with the help of the nonprofit organization "Cadenas de Ayuda".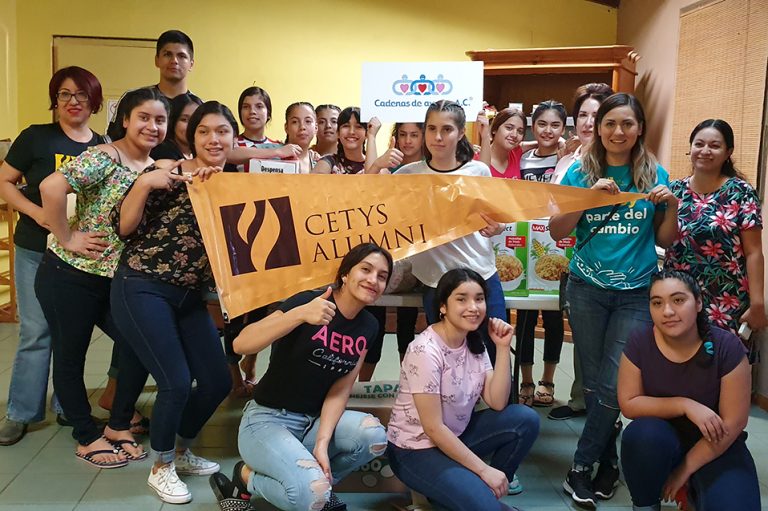 On average, CETYS Alumni spend more than 878 hours of voluntary service in a year, in the favor of diverse causes, like: urban improvement, women's rights and vulnerable groups.
#ImpactoCETYSAlumni reflects the commitment of graduates to create a positive change, with the values of solidarity and help, that are needed to improve their communities.