In Brazil, the International Sustainable Campus Network (ISCN) recognized CETYS University Tijuana Campus, along with Yale University and the University of Melbourne, for their actions on sustainability that comply with global standards.
The CETYS ZERO WASTE program of the CETYS Tijuana Campus places the institution among the best universities in the world in terms of sustainability as an Honorary Member Award of the ISCN.
Since August 2018, CETYS Tijuana implemented this program in collaboration with Elica Avante, a consulting company founded by CETYS Alumni members, with the aim of reducing the waste generated in its facilities, raising awareness about actions that worsen the environment and maximizing the use and preservation of resources. As a result of these actions, up to 90% of the waste has been reduced in the Tijuana Campus and the 5Rs have been consolidated into the daily operations and consumption habits of the community.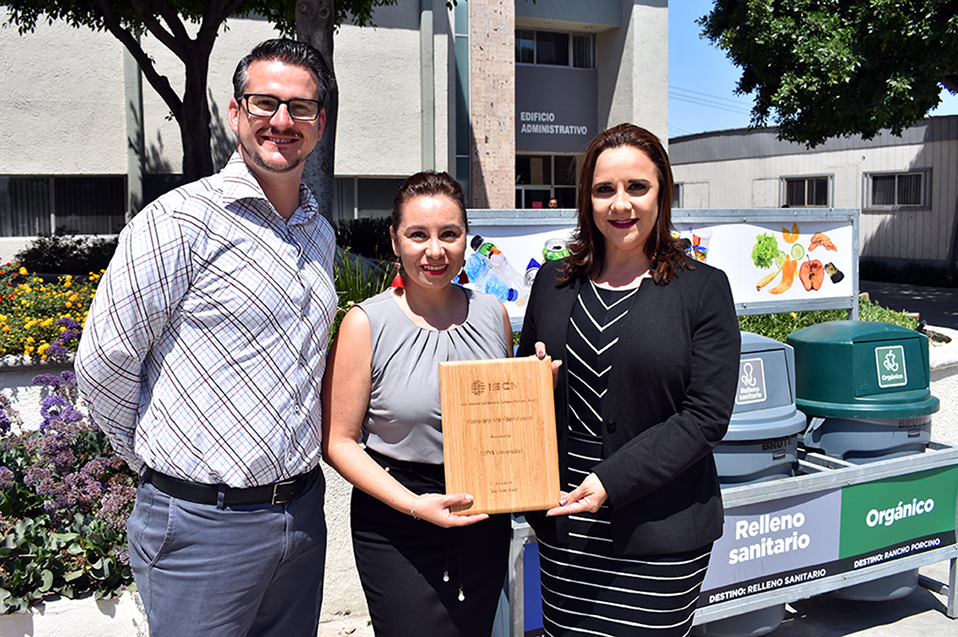 "One of our main development pillars of our CETYS Plan 2020 is sustainability and that is why, through CETYS Zero Waste, we want our community to join this initiative, starting with a cultural change on campus and inviting everyone to adopt it as a daily philosophy of rejecting, recycling, reduce, repair and reuse. It is a joint effort that we can continue to improve and take further" stated Jessica Ibarra Ramonet, Zona Costa Director of CETYS University.

The recognition was presented at the ISCN annual conference that took place this year at the University of Sao Paolo, Brazil. Opinion leaders, professionals, and agents of change meet to offer a unique opportunity to share perspectives and build global partnerships. And Pablo Muradás González, Director of Student Affairs, was in charge of receiving the award at this important event.
The ISCN organizes an annual global forum to provide support to leading colleges, universities and corporate campuses, in exchanging ideas, information and best practices to combine sustainability into teaching and research.

"It was very positive and inspiring to observe the high quality of the presentations we received. The award winners demonstrate outstanding leadership for sustainability in higher education and we are delighted to showcase their work and highlight the global importance of their contributions" declared Victoria Smith, interim Director of ISCN.

There are over 80 universities in more than 30 countries worldwide that make up this network, such as Harvard, MIT, Princeton, SDSU, Bristol, Oxford, Yale, the University of Melbourne; meanwhile, in Mexico, only Tecnológico de Monterrey and recently UNAM are members of ISCN.