The special edition of the ISP was held within the framework of the 60th anniversary of CETYS University, with the participation of students and professors from 22 countries, for the first time in a hybrid mode.
275 students and 11 professors from 22 countries completed their participation in the International Summer Program (ISP) CETYS 2022 after two weeks of academic, cultural, and social activities. The closing ceremony was held on July 29 at CETYS University International Campus in Ensenada.
The ISP 2022 edition is relevant because CETYS University's emblematic internationalization program turns ten years old, and because it is part of the institution's 60th-anniversary celebrations. Furthermore, this edition was carried out in a hybrid modality for the first time.
The 275 students and 11 participating professors were from Germany, Armenia, Australia, Austria, Bolivia, Colombia, the United Arab Emirates, Spain, the United States, Georgia, Greece, Hungary, India, Malaysia, Mexico, the Netherlands, Peru, Poland, Portugal, United Kingdom, Czech Republic, and Uruguay.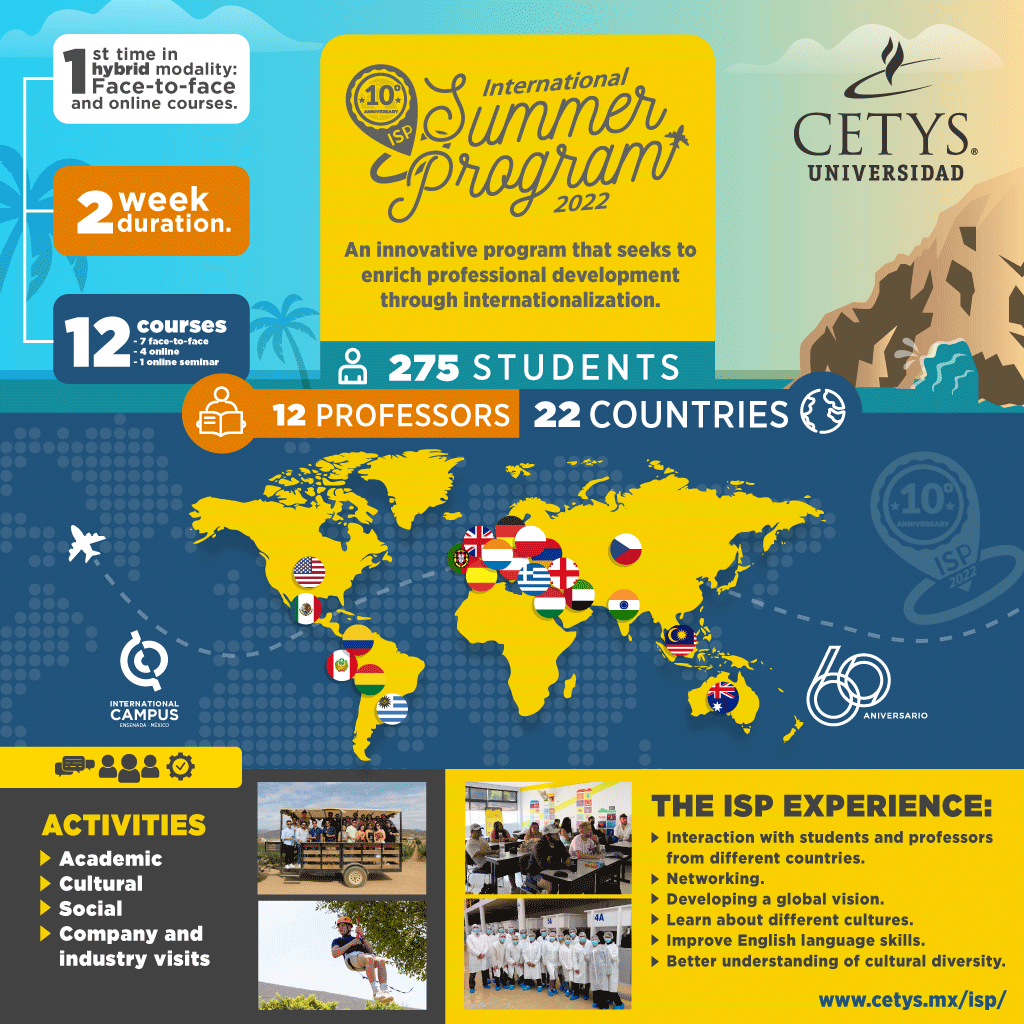 The closing ceremony was presided by Dr. Francisco Vélez-Torres, Dean of CETYS University International Campus in Ensenada. Dr. Vélez highlighted the fact that this event has been carried out successfully since its inception in 2013.
"I salute the students' openness, flexibility, and adaptability for exploring this alternative offered by the ISP 2022 through the Ensenada International Campus, as well as the professors and all the people who made this event possible by combining two modalities, face-to-face and virtual. I hope the participants enjoyed an experience that will allow them to be better professionals and continue to grow anywhere in the world," said Dr. Francisco Vélez.
ISP 2022 offered participants the opportunity to develop a global perspective in a hybrid mode with international classmates and professors, approaching problems or situations from different perspectives, expanding their network of contacts, and identifying opportunities for growth and development in other countries.
For international professor Dr. Geoffrey Dick, from John's University in the USA, in charge of teaching the Business Intelligence course, this experience was very significant for students and professors because it allowed them to interact, work, and learn about other cultures, not only for professional growth but because of the connections it provides them. "It was a pleasure to live this experience with you, professors, and students; it will always remain in our memory. Thanks to CETYS for the great work done."
According to James Plumb, a student at Nottingham Trent University in the United Kingdom, what he has learned in class has allowed him to look at things from a different perspective, and that makes the experience very enriching. "From CETYS and Ensenada I take with me the hospitality, the kindness, and the camaraderie in this activity that is unique and that will undoubtedly contribute a lot to my professional future."
For Mildred Megargel-Pano, a student of the Bachelor of Business Administration at the Tijuana Campus, what she learned and experienced during the ISP will allow her to broaden her horizons so as not to remain only with the local view. "Living with students and professors from all over the world brings a lot to any student; it is a very enriching experience. I am very grateful to have taken part."
Fabricio Montecinos, an architecture student at the Universidad Privada Boliviana, took part in the ISP because he enjoys traveling and wanted to combine this with the knowledge that the ISP offers. "I liked the course I took; it contributes to what I want to do as a future architect because I want to go further, get out of my comfort zone, and carry out projects that involve people from other countries and not just the locals. Taking part in the ISP was a great decision."
Paulina Zentella-Marmolejo, a Digital Graphic Design Engineering student at the Mexicali Campus, participated in the ISP to broaden her cultural awareness. "For me, it was very gratifying to live with people from different parts of the world; I learned a lot and made new friends. I enjoyed being able to exchange points of view and learn stories from people from all over the world."
Finally, Alan Tovar, a Mechanical Engineering student at CETYS University International Campus in Ensenada, highlights that he participated in the ISP because it perfectly combines knowledge, learning, and experience that contributes a lot to his professional life. "I liked the course I took part in because it allowed me to learn how other countries such as the United Kingdom, Poland, and Austria, among others, address sustainability and care for the environment, as well as being able to make friends with people from all over the world that I am sure will last."
The closing ceremony was attended by: Dr. José Luis Bonilla, Director of the College of Social Sciences and Humanities; Dr. Guadalupe Sánchez, Director of the School of Administration and Business of the CETYS University System; Dr. Diana Woolfolk, Deputy Director of International Relations of the CETYS University System; Dr. Lucía Beltrán, Academic Director of the Ensenada Campus; and Dr. Francisco Vélez, Dean of CETYS University International Campus in Ensenada, who presided over the ceremony.