Members of the Global Attainment and Inclusion Network (GAIN), gathered at CETYS University's Ensenada Campus  to celebrate a forum that, through dialogue tables and workshops, analyzed and discussed the best and most innovative practices to promote student success globally.
For three days, international experts from Australia, Canada, Colombia, Europe, Germany, the United Kingdom, the United States and Mexico, led by the American Council on Education (ACE) and the support of Santander Universidades, Universia Mexico and Lumina Foundation, addressed issues such as inclusion, equity, national policies, financing, employability, among others, to coordinate a series of strategies to ensure academic success.
Ted Mitchell, President of the American Council of Education, highlighted the important issues such as "restoring people's confidence in higher education by building leadership with the same intellectual level that allows students to succeed, and motivate institutions to innovate and allow students access to this success derived from higher education".
Courtney Brown, Vice President of Strategic Impact of Lumina Foundation, stressed that we should work to "ensure that those who have been disadvantaged or have been marginalized have the same opportunity for educational success, and it is necessary to have a global vision to be able to learn and know what they are doing in other countries and how we can help ours to achieve it".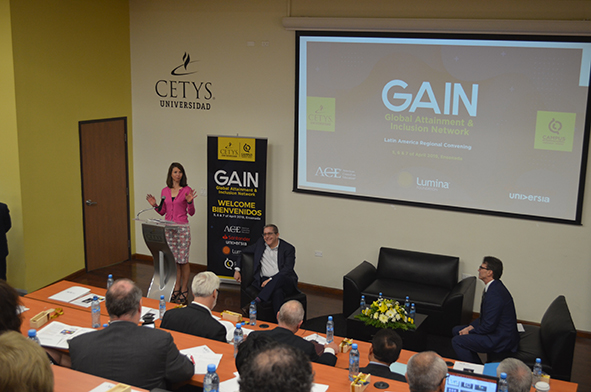 Arturo Cherbowski Lask, Executive Director of Santander Universidades  and General Director of Universia Mexico, said that the inclusion issue plays a very important and high-impact role in higher education, he also called on the assistants to solve this and other situations together to achieve progress and recover the confidence of society in higher education.
Miguel Angel Mendoza, Secretary of Education in Baja California, said to be very pleased that Baja California hosted this meeting, "we applaud this event because they give us the opportunity to know, learn, compare and obtain strategies to improve ourselves and help others achieve success in their goals; in particular, we want more students to have access to higher education".
Finally, Dr. Fernando Leon Garcia, President of the CETYS University System, said "we hope that the product of the interaction, the discussions and the practices carried out throughout the event will lead us to have more conversations where the focus is on what is going to happen with the students and what we can do to achieve their professional success".
In addition to the work sessions scheduled for the 3 days, the experts toured Baja California, Ensenada and Valle de Guadalupe. This is the first meeting held outside of GAIN USA, thanks to the support of the Lumina Foundation and Universia, who have identified in Mexico, through CETYS University, a transcendental partner for this initiative.