The University of Finance and Economics (VSFS or Vysoka Skola Financi a Spravni) in Prague, Czech Republic, awarded the degree of Doctor Honoris Causa to  Dr. Fernando León García, President of the CETYS University System, for his distinguished contribution to internationalization in the higher education.
Dr. León García is the first representative of the Americas to receive the honorary degree from VSFS. According to its authorities, this is a milestone in the history of VSFS, especially in terms of collaboration with CETYS, as well as a clear signal to further expand this relationship.
The Doctor Honoris Causa degree is awarded to academics in recognition of their extraordinary contribution to higher education or to those who have performed a task of extraordinary value for the improvement of the living conditions or welfare of humanity. Dr. León García was recognized for having been a key player in the development of VSFS, particularly in terms of its internationalization, as well as the VSFS-CETYS link.
"Fernando, regularly called international workshops, where discussions and exchanges of experiences took place, which were for VSFS, which was still in its infancy, very valuable. We not only learned the best practices from the USA, Canada, Australia, Greece, Slovakia, and other countries, but we also made important contacts and established strategic alliances. At the same time, we were able to share our experience and knowledge ", explained the President of VSFS, Dr. Bohuslava Senkyrova.
Upon accepting the Doctor Honoris Causa degree, Dr. León García expressed his gratitude and appreciation for the distinction in the hands of Dr. Senkyrova, who represents the vanguard of private universities in the Czech Republic, a vigorous and enterprising force of the higher education in that country, and a leader in its kind in Central Europe.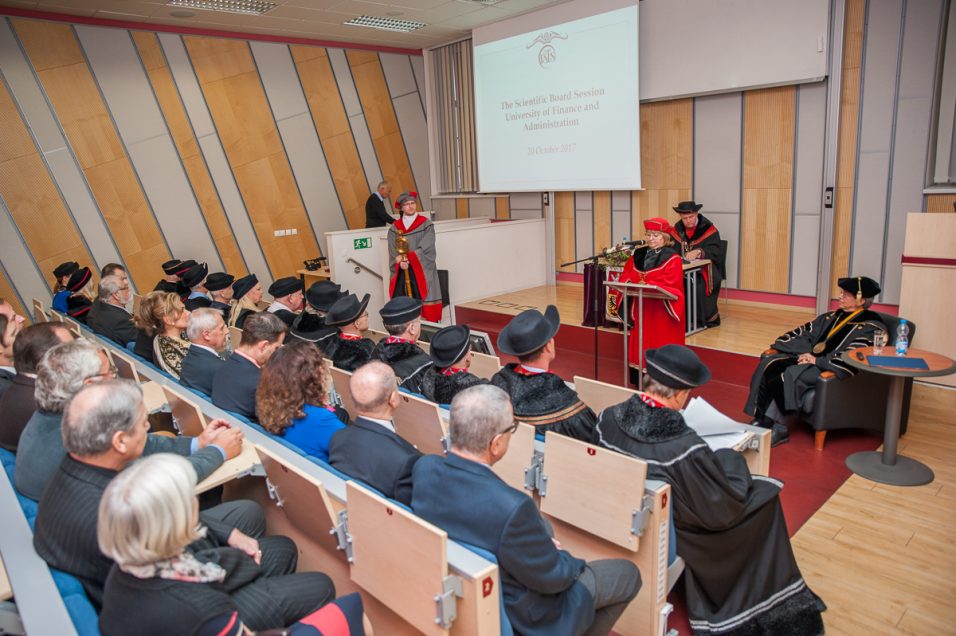 Since 2006, CETYS and VSFS have collaborated through initiatives in High School, Undergraduate and Graduate programs, as well as the presence of their executives in panels and international events organized by CETYS. To date, more than 300 students have had an international experience or academic activity in VSFS.
The Ambassador of Mexico in the Czech Republic, Her Excellency Leonora Rueda, who was present as witness of honor, congratulated the President of CETYS for such a well-deserved distinction with which he was honored. She highlighted the importance of the presence of students and teachers from Mexico in the Czech Republic, which is fundamental to advance in new options for educational development in Mexico, to strengthen a vision for the benefit of our society.
During his lecture on Internationalization of Higher Education, Dr. León García shared different conceptions on the subject, trends in mobility worldwide, and the importance that this represents in order to prepare a globally competitive student body. He pointed out that it is inevitable that any institution that seriously focuses on quality should endorse it internationally, and that any institution that wishes to internationalize must do so with quality.
VSFS is a private institution with three campuses in the Czech Republic and a student population of 10,000 students, including school and continuing education programs.